Go Beyond the Surface with Nemo
Nemo is a tankless diving system, perfect for shallow-water diving. It features a rechargeable lithium-ion battery that allows a single diver to dive up to 10 feet for 60-90 minutes or more. Whether you are treasure hunting, a recreational diver, or just seeking a travel-friendly adventure companion - Nemo is perfect for you. 
Nemo is ultra-portable which makes it easy to carry and even travel with. It weighs less than 10 pounds and measures less than 12" on all sides. Even better, the Smart Reg™ monitors your breathing to ensure you get the most out of each dive by extending the life of your batteries.
The Smart Reg™
What allows Nemo to be so compact, energy-efficient, and responsive is our patent-pending Smart Reg™ – the first of its kind!
Here's how it works: A silicone diaphragm inside the Smart Reg™ moves when the diver breathes. A waterproofed sensor measures the diaphragm movement – it then sends an electronic signal which triggers the compressor to pump air at exactly the time and speed that the diver is inhaling.
Nemo pumps only the exact pressure, volume, and flow rate that the diver needs at their particular depth which means it uses just a fraction of the energy of any other underwater breathing system. That's why we can use smaller pumps, motors, and batteries – bringing you the most portable and affordable underwater breathing system ever!
The Compressor
We're not just using some off-the-shelf compressor and sticking it in a box. Nemo's compressor is an entirely custom design. We've built it specifically to ensure clean breathing air is supplied as efficiently and in as compact of a package as possible. Our engineers like to call the compressor an "oil-less linear two-cylinder brushless DC diaphragm pump, everyone else calls it "innovative."
Nemo's flotation foam gives the unit inherent buoyancy, just enough to float without the flotation tube added on, so you'll never have to worry about the unit sinking. But always use the flotation tube for times when additional buoyancy, stability, and visibility are desired! (anywhere outside of the pool)
The Battery Pack
Nemo is powered by a custom lithium-ion battery pack that is swappable and rechargeable. The pack and connector are IP67-rated to handle saltwater environments. It's under 100 Wh, so there are no issues with air travel! A charge-level indicator is located right on the battery itself so that you always know your battery level. Be sure to grab a few extra packs so that you can dive all day long!
The Flotation Tube
Designed to give Nemo extra stability and visibility in open-water settings such as the ocean, the flotation tube provides an additional 22 pounds of buoyancy and is brightly colored so that family, friends, and by-passers can easily spot your location while you're diving. The tube inflates with only 3 to 4 breaths and similarly deflates with ease. Not diving in an open-water setting like an ocean or lake? Nemo will float just fine without the flotation tube!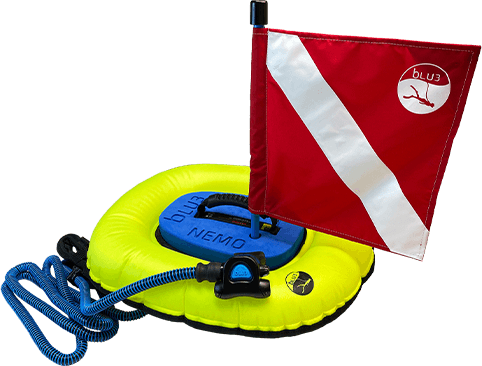 The Air Hose
Nemo's 10-foot air hose is the perfect balance of weight, flexibility, and durability. The coils prevent the hose from kinking and make it super easy to handle. The buoyancy of the hose allows excess to float on the surface so that it stays clear of you, the marine environment, and other divers underwater.
Nemo Backpack
Take Nemo with you to new dive spots around the world with the Nemo Backpack, designed specifically to make carrying Nemo and the rest of your gear as easy as possible.
The thrill of scuba diving.
The simplicity of snorkeling.
Key Features:
Rechargeable easy-swap battery pack.

Compact and lightweight.

Easy to use.

Comfortable dive harness.

Air travel friendly.
System Includes:
Nemo

Nemo Backpack

Smart Reg™

Dive harness

Battery Pack (add on spares at checkout)

Both Dive Flag Types

Nemo Online Dive Training Course
An important rule of diving is to dive with a buddy. So, convince a buddy or a group of friends to dive BLU3 together!
Nemo gradually declines in air flow performance in the final minutes of battery life to gently alert the user that the battery is going to be fully depleted soon. The decline in performance is a signal that it is time to conclude the dive.
BLU3 recommends a redundant air supply like Spare Air® for for emergency situations, although the Nemo Online Dive Training Course teaches users how to make a proper ascent in any out-of-air situation.
Enhance Your Diving Experience with the Nemo Backpack
The Nemo Backpack makes traveling to your dive destination easier than ever before.
Padded back support and shoulder straps for extreme comfort. Storage compartments inside are designed to organize your air hose, batteries and chargers, flotation tube, dive flag, and weight belt. There's also a zip pocket for miscellaneous items like your phone and wallet and straps on the side to carry your fins.
Nemo Online Dive Training Course
Prior to Nemo Diving, it is required that each user completes and passes the Nemo Online Dive Training Course. This course is available free of charge online on a user-friendly platform. It teaches users how to have the most enjoyable Nemo Diving experience by thoroughly explaining important diving techniques and emergency procedures.